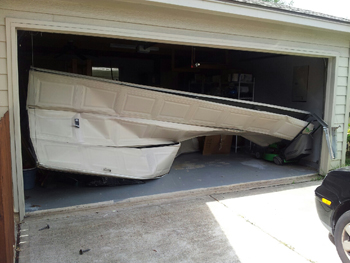 There are quite a few garage door companies in the city of Vancouver. But there is only one that is the most excellent and that is our US Garage Doors Company. We are the best for a couple reasons. First because we offer emergency services of garage doors and we are here and when you need us. You can find at our company also well trained garage door contractors. These contractors also have every part they may need on their trucks at all times. We come prepared.

It is a proven fact that springs of garage doors are dangerous. In more than one situation, the homeowners have been badly hurt by trying to install or replace torsion springs or extension springs. Never try and replace these garage doors' springs on your own. Call us and let us to make an evaluation and fix your problems as soon as possible. If interested, you should also ask us about the galvanized springs of garage doors.

Garage doors can be a real pain in the back. Literally this is true. This is why we supply openers of garage doors. We have the following models of openers: Liftmaster, Marantec, Chamberlain, Craftmaster, Sears and Genie. Garage doors' openers are heavy. They are not easy to install and will be hard for a homeowner to attempt. Save yourself the headache and call us at US Garage Doors Company located in the city of Vancouver and let one of our trained garage door contractors to do it on behalf of you. Our professional team will take the guarantees that we install the right opener for your drive whether it is a belt drive, chain drive, or a screw drive.

With that opener you may be in need of a garage door's remote. These make it possible to open or close the garage from the comforts of your car. We cover Clicker, Liftmaster Security, Genie Intellicode and Multi Code and our garage door's contractor will install these for you and show you how easy they are to operate. While we are there ask us about our garage doors adjustments/maintenance services. The service involves a garage door's contractor going over every inch of your garage door. They will tighten all screws; they will take care to do the maintenance lubrication as often as necessarily. They will check for little problems and take care of them before they get out of hand. Yes, these are some things that you could do, but do you know what you are looking for? Safe yourself time and money and let our experts do this maintenance for you.
Is the garage door looking as old as the hills? Is it cracked? This is all normal things that happen to garage doors after years of use. Would you like to have a beautiful garage door that matches your house? How about a wooden, Craftsman, steel or aluminum garage door? Our company has all of them in stock and each has several styles to offer. Our garage door replacement/installation service is one of the services that we are very proud of. We will take off your old garage door and install a new one all in the same day.

Is your garage door in need of repairs? You should be ready to do as soon as possible:
* Fixing emergency release that is broken
* Replacing section of garage doors, if necessary
* Fixing door's off track
* Repairing weather Strips
* Fixing bottom rubbers of garage doors
* Sears garage door opener repair

In order to have those services, you should call our Garage Door Company. We are a group of well trained garage door contractors that can handle any repair job no matter how big it is.
Have you ever seen a glass garage door? We have several styles of glass garage doors that we are able to install for you. Glass garage doors have a coating on them that does not allow people from the outside to see through but yet you will get a garage full of sunlight. Let us install a glass garage door for you because we can do it safely without breaking it.

Then we have garage doors' tracks and cables door service.
This is a service that will take care of issues like Cable lose, Cable Snapped, Replace garage track, Broken cable, Cables that came off the drums and bent garage door's track. Usually, the cables and tracks are designed to last long but after times parts do wear down. We sell the cables and we sell the tracks. The tracks, of course are more expensive.